Gun P0rn
Well, I added a new gun to my collection . . . . . . and lost one too.
Thats cool though.
I traded this workhorse.

SAR-1 in 7.62x39
For this beauty.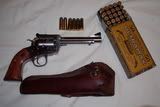 Ruger Accusport SS Bisley Blackhawk in .45 Colt (5.5 inch barrel)
I hope to get it out to the range on Wednesday and a full report will follow.
UPDATE:
Says Uncle thinks
I traded down
. I respectfully disagree. As my wife (the perfect woman - yours can only be second best by comparison) said - "That's gorgeous!"
Anyway, I think both parties made out well. I got what I wanted/needed - a sweet looking and powerful cowboy like gun to take hiking and plinking and hunting while the individual I traded with got an excellent AK clone. On a dollar for dollar value though, I would say I got the better deal (though I did throw in a whole lot of ammo so that may have evened things up. Needless to say, there has been zero buyers remorse and I look forward to hitting the range on Wednesday and testing it out (and letting you know if its really worth the trade). Till then, I'll just have to go on Jeff Quinn's
recommendation
.
Oh, and the Gun Guy's too.
Sounds like a decent swap to me. A SAR-1 is, well, an AK-47, but a good revolver is a thing of joy for its owner. If you never shoot the SAR, I can certainly say that you'll shoot the Blackhawk. Often.