RIP: Michael "Panic" Houser
This week we mourn the loss of two truly fine guitar players. The other day was the
10th Anniversary of Jerry Garcia's
passing.
Today, we mourn the loss of Widespread Panic guitarist
Michael Houser
who died from pancreatic cancer August 10th, 2002. I
linked
to a fine example of his lingering leads in
Monday's Song Lyric
.
For the geeks out there - this was his
killer setup
- complete with the "If Its Too Loud, Your Too Old" bumper sticker.
Over his last five or so years, he developed a problem with his leg that required him to sit down during performances. That is how most of Widespread Panic's current crop of fans remember him.
I'll keep the vision of his solitary figure standing on stage right, head hung down with his flop of hair covering his face - wailing away with a blistering Michael Bloomfield-esque riff behind whatever groove the band settled into.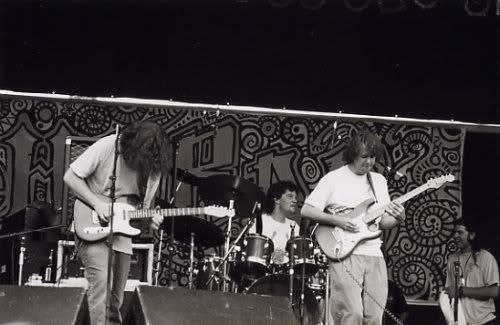 Rest In Peace good buddy