Jeep Update
Heh!
Who says persistance doesn't pay off. After harrassing USAA and demanding to see the full vehicle appraisal, I noticed a number of errors and easy points of to challange in how they valued my Cherokee.
First, I refused to accept their baseline estimate. Even though USAA insisted their estimate was "accepted by regulators in 50 states" I returned with a Virginia Attorney General's opinion indicating that the Blue Book (which valued my vehicle almost 1000 more) was an acceptable source of auto pricing in Virginia.
Second, since its a low mile vehicle, I successfully argued that the base figure to increase its value needed to be adjusted. Its one thing for a car to have 15,000 fewer miles on it. Its quite another thing for the car to have 55,000 fewer miles on it. My argument to them was that the car had 3 1/2 fewer years of driving on it than the base line car and as such should either have been given considerably more of a bonus or they should use a 1999 or 2000 vehicle as the baseline.
Finally, after looking over the estimator's statement very carefully I noticed there was a $1000 deduction for "prior existing damage" but no explanation of what the damage was. USAA didn't know what it was for but the claims adjuster indicated, after looking at pictures of the car, that it was "for the damage to the tail gate." Well, duh. Thats the damage caused by the accident.
After she failed to return my calls, I decided to call her supervisor. In a very calm and reasoned tone I explained how I knew my adjuster was overworked and under pressure responding to the Katrina and Rita claims, but I was just a single lonely guy who was now without a car for 2 1/2 weeks and getting frustrated at the difficulty I had communicating with USAA. I again went through my three concerns with their value estimate, and declaration that the minimal damage the Jeep sufferred resulted in it being declared a total loss (this concerns over losing my beloved Cherokee increased after a very unsuccessful weekend of car shopping). He agreed with me across the board, had the estimates recalculated, and today the claims adjuster called me to let me know that the car would be fully covered and repaired if I wanted it to be.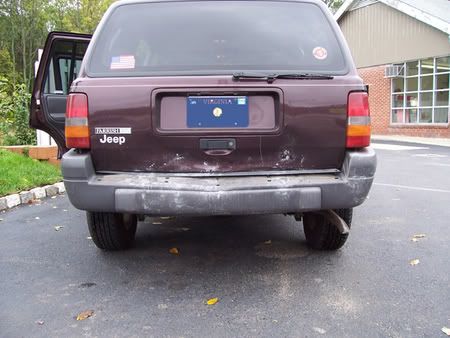 I knew thats what I wanted, the frame damage - whatever there was - really was minimal according to the body shop (the owner is a long time family friend who couldn't believe they were going to total the Cherokee).
Thank goodness. I am getting my car back.