Porky Ponzi's Wimpy Pyramid Scheme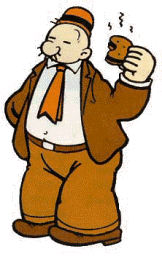 "I'll gladly pay you Tuesday for a cheeseburger today"
-Wimpy
I commented on
Professor Reynolds' Pork Buster campaign
way early on, pointing out why I thought it was an admirable but ultimately futile effort. Politicians sole job is to bring home the pork, and if they have to, they will hide that bacon better than you can ever imagine.
So far, I haven't seen anything to change my opinion. In fact, some of the policy contortions that I've seen from Republican's rival the greatest wordsmithing and evasions of either John Kerry or Bill Clinton.
Take
this letter
from Maryland Sec. of Transportation Robert Flanagan that was posted today.
The funding plan for the ICC, which the Maryland General Assembly endorsed during its 2005 session, includes a combination of creative funding sources
Creative Funding Sources.
That's wimpy political speak for Porky Ponzi.