Freedom's Revolution
OK,
Here's the full story.
I had drafted a rather lengthy post - complete with pictures - of how the 2nd Amendment is hanging on in New Jersey. Went to post it - and its lost to the abyss that is blogger. As a result, all I managed to post was a crappy reminder. Then, while drafting this post last night I also lost half of it to blogger.
Have I told you blogger sucks???
Anyway, here it is in its entirety. Not as well written as the original (and perhaps with lots of needless detail - but thats why we blog, isn't it? ), but still it should be enough to tide you over with good cheer as we head into the Holiday Season.
Last weekend I took a trip up to New Jersey. Since the service for my grandfather was held in Florida - where he lived the last couple of years - my parents wanted to host a memorial service for his friends and family and business colleagues who couldn't travel to Hutchinson Island.
I worked on Friday night and woke up rather early Saturday morning to drive up for the 2:00 service. Left McLean by 6:45 and crossed over the Delaware Memorial Bridge just around 9:00. Instead of taking the Turnpike, which I hate, I opted to go north on I-295 and then cut over to US 130. 130 puts me out on I-287 which I then take North to the point where it used to end until they actually completed the road in the early 1990s.
That route has two great benefits. First, there is no toll. I hate paying tolls almost as much as I hate to pay taxes. Second, of course, is it hardly ever has any traffic (especially compared to the Turnpike) though at 9:00 am on a Saturday that is hardly a concern. Furthermore, it is a rather pretty drive in parts (some very few parts).
Anyway, while driving north on it, I had the pleasure to pass two of New Jersey's largest firearm dealers - both with impressive selections of firearms as well as other outdoor gear.
The first,
Sportsman's Center
had hunting rifles and shotguns, lots of handguns, some cowboy action stuff, and a couple of AR15s (not to mention the best display of reloading equipment I ever saw and a great collection of trophys). For 9:00 am on a Saturday morning, it was certainly packed.
Harry's
which may actually be bigger, was only 5 minutes down the road and might have had more customers. Between the two I was pelasantly surprised to see such healthy displays of handguns and even the occasional EBR for sale.
But that's not the big story. The big story is sticking it to the gun banning Bolsheviks in Trenton and ensuring subversion and dissension in support of the constitution amongst their subjects and right under their little pinko noses. And that story starts, as all good stories start, with an Om-pa-pa.
Om-pa-pa
oom-pa-pa
oom-pa-pa
oom-pa-paaaaa!!!!!!!!!!!
Woke up Sunday morning and went with my parents, little brother, and aunt and uncle to breakfast before I was to drive back home (being in Jersey, we of course went to a diner that - as
only a diner in New Jersey can
- satisfy the craving for something good and comforting to eat. It was the Alexis Diner on Route 10 in Denville, NJ. Mmm Mmm Mmm. I had some eggs sunny side up with toast, home fries (don't bother looking for grits in Jersey) and a couple of cups of Java Joe. Afterward, i pointed the Cherokee east on Rt 10 and drove a couple of miles to the entrance for I-287 South and the return home to DC.
The right lane turned into the entrance ramp for I-287 and as I approached the turn to 287, the two cars in front of me slowed down and I did likewise. Next thing I know -
BAM!!
Followed by, a few seconds later -
BAAAMMM!!!
And me going - WTF????
Turns out I was hit in the rear by a car. The woman who hit me ends up being without auto insurance. At first, she was rather pleasant and offered to pay for all the damages in cash. That was nice, and I didn't really care how it was taken care of, as long as it was fixed. However, not knowing her I did what any person would do and grabbed my license, registration, and insurance and asked her to get hers so we could switch info.
Well, she flipped and began screaming and yelling and became very hostile and aggressive. Now, while New Jersey sees fit to take my 2nd Amendment rights away, I did have in my possession both a rather effective hunting knife as well as my new Buck 110 folder. Rather than pull either out, I simply called 911 as it was broad daylight on the side of a road. She continued screaming - calling me a smug Virginia prep school boy, ranting and raving, etc. Eventually, after 2 hours the cops (who showed up within 5 minutes) had towed both cars and taken her away in an ambulance (probably to the funny farm).
Something needed to be done to relieve the stress, and kill the day since it was obvious I wouldn't be getting out of Jersey. I suggested we shoot some skeet. Dad agreed and decided to call one of the neighbors to inquire if he wanted to join us. He did, but happened to have his 9 year old that weekend (he is divorced). No problem, I said. Nine is the perfect age for an introduction to the shooting sports. Mom, hearing that the neighbor's boy was going shooting with us then decided she would join us too. We pointed out that she would have to shoot a gun if she wanted to come along and she reluctantly agreed (mom is a bit weird and never had held a gun as far as I know - even though the house has tons of 'em)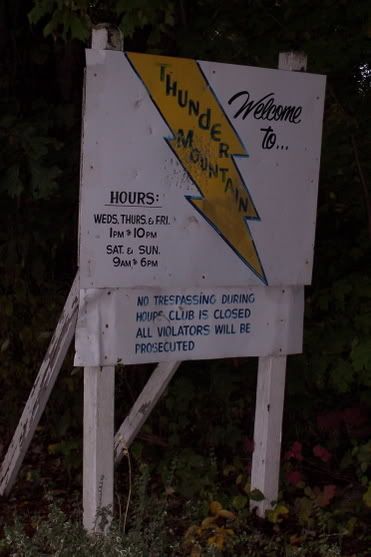 Into the car we jump, shotguns a ready, and head north on I-287 to
Ringwood State Park
. Just south of the New York line in the heart of the Ramapo Mountains, Ringwood is one of the more beautiful spots in Jersey with mountains, valleys, and lakes, botanical gardens, and an impressive Manor home within its borders. The state has spent much time buying bits and pieces of the park and its a patchwork quilt of the finest the Northern New Jersey has to offer. Of course, one of the pieces it purchased was the 10 acres that house
Thunder Mountain Skeet Range
. This range would never be allowed to exist were it built today, but thanks to the foresight of its founders it was created before the gun banning Nazi's arrived in Trenton.
While the property is owned by the state, Thunder Mountain remains a private business with a guaranteed long term lease enabling it to exist and use the property. After speaking with the owners, I thanked them mightily for "sticking it to the commies." They just smiled, a nervous smile, but not as big of a smile as I had upon pulling into yet another parking lot packed with New Jersey gun owners.
The main lodge itself reminded me of an old ski or hunting lodge. An L shaped building, it had the red coloring of picnic benches or the facilities at summer camp. The walls and foundation were made of stone, with a giant circular fireplace in the middle. Upon them was an impressive collection of taxidermy and a wonderful collection of old shotgun memorabilia.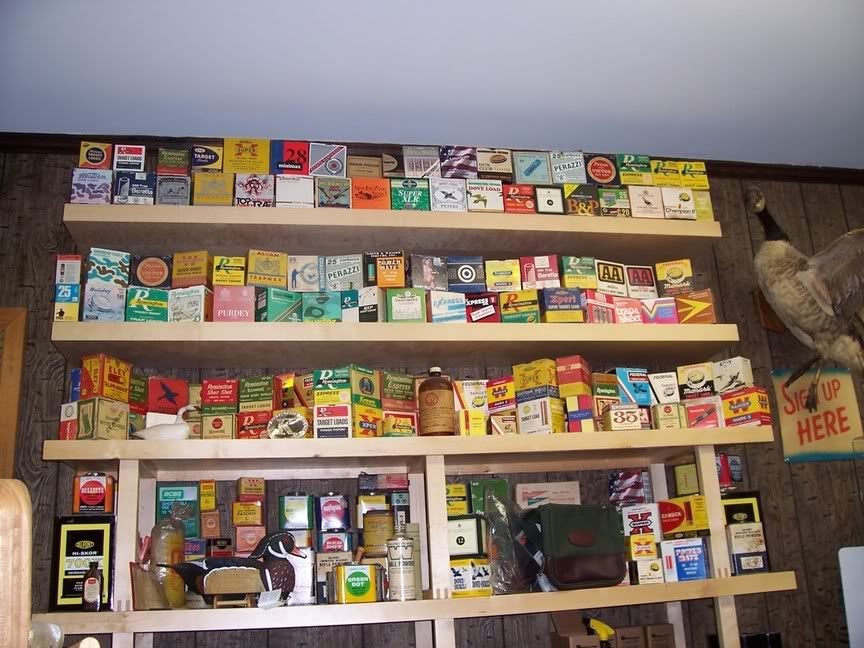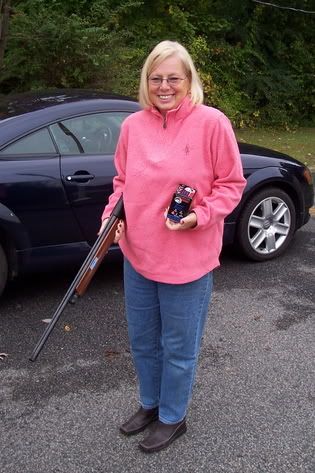 They also had some pretty sweet and pretty expensive shotguns for sale. If you want, you can buy a box of shells and they have plenty of guns to loan out too, which is what mom and the 9 year old did. Mom, who as I said earlier, I don't think had ever held a gun before, got a kick out of the entire ordeal. They gave her a nice little Beretta 20 gauge. The 9 year old was initially looking at a .410 but I thought that would be too difficult to hit anything with and instead, he got a top break single barrel 28 gauge by an unknown maker. Looked almost like a
chipmunk
in terms of size and wood quality and it fit him like a glove.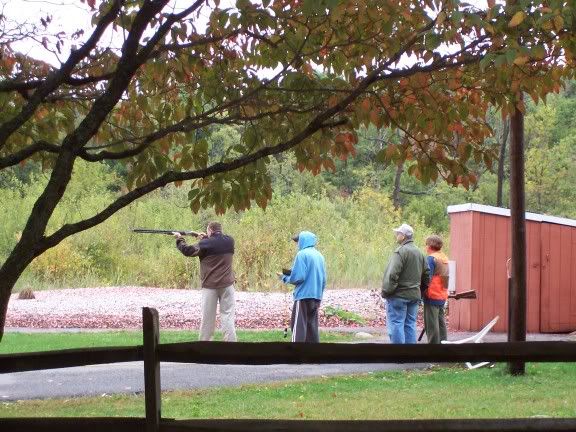 Thunder Mountain has a number of Skeet courses as well as 5 stand and a variety of trap games. Sadly, there is no sporting clays offered there, but that didn't matter. While other folks were looking pretty good on the skeet range, we headed off to the other end of the parking lot and the practice trap range where there was a lot of new shooters.
That was ok though, cause the only thing better than introducing a 9 year old to guns in New Jersey is having to wait for some other 9 year olds to finish their introduction.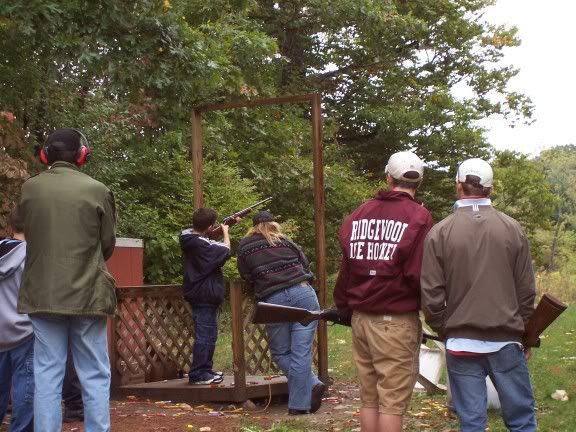 We made good use of the time and spent it training both Mom and Mr. 9 year old on the operation of their firearms and proper gun safety. Here is Mr. 9 year old getting ready for the first shot. Notice, if you don't mind, the placement of his finger. We stressed safety, form and fun. Looks like he got them all down!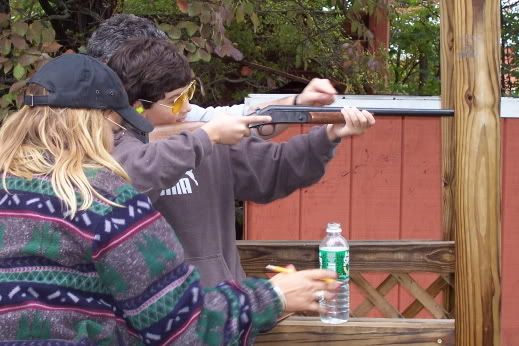 Unfortunately, he only hit 3 of 25 birds and was a bit depressed. We were all excited for him cause he was getting close, but he didn't quite understand how a shotgun pattered and the difference between the gauges. The next round however, on my suggestion, we switched the 28 in for a 20 gauge and all of a sudden he knocked 20 birds down and was loving life.
His ear to ear grin after hitting each one was worth a million bucks. Sweet!!!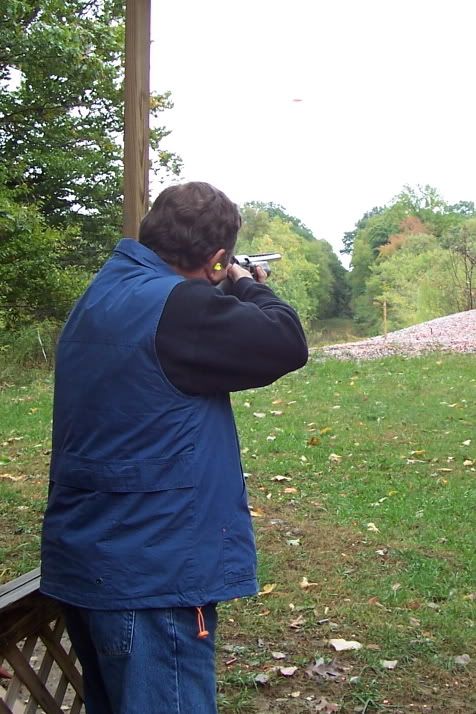 The real competition that day though was between Dad and myself. I started out going 5 for 5 on the practice skeet but then fell off and only hit 21 of 25. Dad started out going 2 for 5 but got it back together in a big way and finished with 22 of 25.
Not surprising, look at his perfect form. Plus, being a former green beret and expert marksman it was inevitable.
He then went on to smoke my ass in skeet.
For what its worth, here I am.
I actually scored a hit on this one, bad form and all.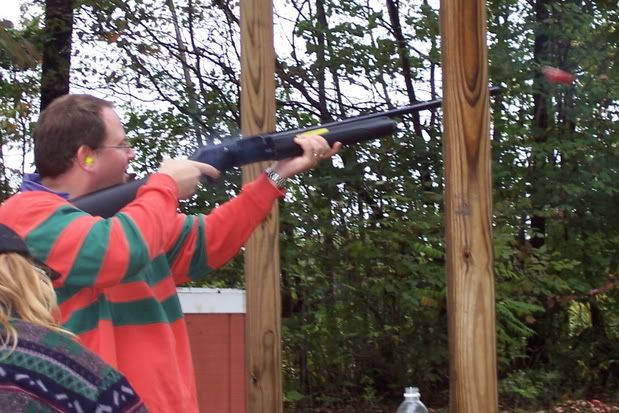 The real excitement though, came that evening after returning home. We all decided to head out to dinner (including the neighbors Nancy Pelosi supporting San Francisco native super liberal hippy dippy wife) and hit my parents
country club
.

She was intrigued by our day - and shocked by the excitement of both the 9 year old and my mother and now wants to join us the next time we head up. Further, between dinner and desert my mom ran into a long time family friend and her husband and kept telling them about all the fun we had. They too want to join us.
So, to cap:
I discovered 3 great firearms friendly establishments in New Jersey


2 new members of the nation of riflemen including the worst kind, a 9 year old with lots of friends to spread his new found dissension amongst


3 prospective additions to the nation of riflemen including amongst them a super liberal (who, since meeting my dad is coming to her senses. She actually read Michael Crichton's Climate of Fear and now refuses to donate money to environmental groups anymore).


evidence that some people in New Jersey may still know how to use a firearm

and finally,

we witnessed at least 3 more new members of the nation of riflemen while at the skeet range, all of whom were under 13
Its enough to make me do the happy dance nude.