Grew up just outside of it, but the Republican Convention will be my first trip back into the City since I don't know when. For me, the city went downhill when Gulianni was elected. Sure, I like Rudy, but I like my NYC with a healthy dollop of booze, sleeze, sex, and grime -Its NY F'ing City - not Disney Land!!!
Take the quiz and decide for yourself,
"Which American City Are You?"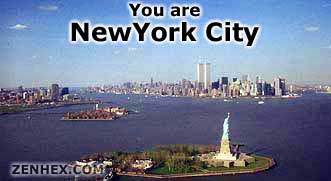 New York
You're competative, you like to take it straight to the fight. You gotta have it all or die trying.