The Wall Street Journal has a great article today on
expanding the market of gun buyers
(subscription required, but as I usually say: spend the $1.50 on a hard copy of the WSJ, its the best investment you could make today).

Smith & Wesson Holding Corp. unveiled a magazine ad this year that epitomizes the new approach. A young woman with a backpack stands alone near a canyon that yawns across a desolate landscape. The picture projects an image of adventure, with a whiff of vulnerability. But the copy warns that this is no easy prey: "I hike alone, I bike alone, I climb alone. But with my Smith & Wesson, I'm never alone."
Here's that great ad.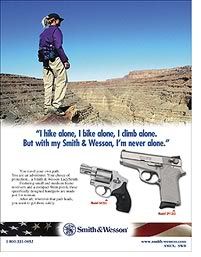 THere is also a great review of different models that have emerged over the last couple of years including the S&W 460XVR, the Glock 23, Springfields slim fit XDs and .45s, and upgrades to Sig and Ruger's line. Oh yeah, they also explore how concealed carry laws are expanding and credit VPC for the explosive (pun intended) success of the gorgeous S&W Magnum 500.
They are also looking at product placement opportunities in movies.
Under an overhauled management team that includes former executives from Harley-Davidson, Black & Decker and Coca-Cola, Smith & Wesson has been taking advantage of the controversy, furiously marketing a brand name that has an 87% recognition rate among the general public, says Mr. Taylor, the marketing chief.

This year alone, Smith & Wesson is sponsoring a Nascar team, producing a cable-television show and promoting a pistol match to raise money for kids with cancer. It is also licensing its 153-year-old name to footwear, flashlights, baseball caps and barbeque grills. And it has retained a Hollywood product-placement firm to get more of its guns in movies.

The last time that Smith & Wesson had the world's most powerful revolver -- the .44 Magnum wielded by Clint Eastwood in the "Dirty Harry" movies of the 1970s -- sales boomed.

"Every time Dirty Harry made a new movie we'd sell all the .44 Magnums in the store," says Larry Barnett, a Huntsville, Ala., retailer.
Oh yeah!!!