I'm Back
Well, I am back from another wonderful trip to
St. Simon's Island
along the Gold Coast of South East Georgia. It was a rather eventful trip as the transmission in my wife's car went kaput in Tallahassee, requiring me to drive there Tuesday to pick it up at a dealership (
First Team Isuzu
- stand up folks who took care of her and my son) and spend the night before heading back to St. Simon's on Wednesday morning. Luckily the warranty covered the repairs. The wife's cousin and her new hubby, from Athens, GA, also made it down for a couple of days as the weather held out till late Friday when we started experiencing bands of violent thundershowers bought on by Katrina as she passed over Florida.
Anyway, the week was basically spent on the beach and in the seat of my kayak, in the most leisurely mode possible. Drank a bunch of daiquiris and pina colada's (am actually drinking one with leftover rum right now) and ate lots of seafood.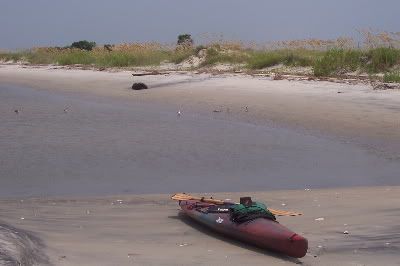 Thanks to my guest bloggers who posted intermittently, infrequently, and not at all. I appreciate your attempts to keep things going around here. With Katrina hitting New Orleans over night, the domestic economy is going to suffer tremendously. Gasoline was already on pace (even though the press hadn't reported it yet) to top $4.50 a gallon by next summer. With the loss of New Orleans, we may be seeing that by next week. Even worse, potentially, is the impact Katrina will have on natural gas prices - already at near record highs - as New Orleans area has one of the only Liquid Natural Gas (LNG) terminals in the nation. Luckily, the energy bill will allow more to be built, but as you struggle to heat your home this winter (or simply afford most products) consider blaming NIMBY types who have handicapped the United States long term interests by opposing construction of new LNG terminals for years. As a result of all this, I expect to have a very busy couple of days and will keep the guest bloggers "ON" since I don't know how much blogging I will actually get to do.
In the meantime, I leave you with this shot from the tip of
Little St. Simon's
(Kayak'd there, didn't stay there - don't make enough to stay there).
I tell ya, its all for the birds.