Go Mason
I didn't attend Mason, but do a lot of work with some of their free market economic think tanks. Thats enough of a connection for me and tonight I'll be happily sitting ON THE FLOOR RIGHT UNDER THE BASKETBALL.
I'll post some pics tomorrow
.
Well, I purchased some bad batteries or something. Camera basically refused to work. As for the seats, they weren't quite as close as I had thought. Buddy's usual tickets (for NBA stuff) are right on the floor (as in your feet are on court). For the NCAA tournament we were back a bit with the cheerleaders, the band, and some George Mason officials in front of me (as well as a guy with real cool hair).
Anyway, here's the only two pictures that the camera managed to snap.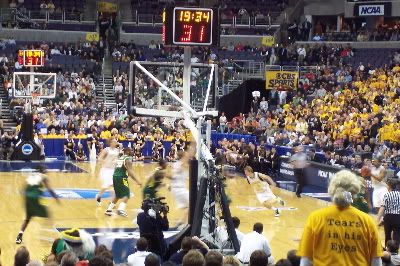 After the victory!!