Bullshit Alert and a litte Gun Porn
More news on the news.
Now Channel 4 news is reporting a bankrobbery at a Chevy Chase Bank in Maryland (note how this didn't happen in Virginia)
The robbers attacked the bank, in broad daylight, weilding assault rifles and shotguns. They even took a shot at a police officer.
After getting a 5 second statement on the evil of guns from the requisite asshole Maryland anti gun bigot cop, Jim Vance states:
"Police believe this is related to a string of high profile bank robberies where the assailant have also used machine guns" (not exact, but pretty darn close). The van they used was found in the D.C. ghettos a couple of hours later.
Anyone think this is just a little coincident, what with the less than 2,000 commie mommie march yesterday.
First, if they did use one of the dreaded evil black assault rifles, then thats just proof that the ban Maryland enacted isn't worth shit. Further, it looks like they may have returned to DC, where all guns are banned. Oh, I guess criminals don't pay attention to that as well.
Second, if they are using machine guns, what the hell do so called "assault weapons" have to do with it.
I guess there is another possibility - they were actually using an MP40 or MP43. In that case, these are some pretty rich bank robbers indeed.
In their honor, here are todays Gun Porn Submissions.

MP 40 . . . Nice!!!!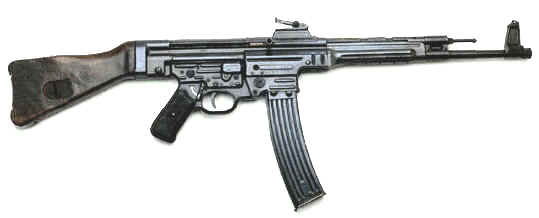 MP 43 . . . Double Nice!!!!!!!!!!
Enjoy, and try not to rob any banks with these REAL assault weapons.