I've been hunting a bunch (for me at least) this fall. Went out again this week and saw lots of signs, but sadly no bucks. Its probably a good thing too, since when I hit the NRA range tonight, my rifle was horribly out of sight. I had a feeling that was the case and have been invited to hunt on a neighbors farm - where he just shot a 150lb dressed doe - on Monday. He has a gorgeous little game preserve in the Virginia Hunt Country and I wanted to make sure everything was peachy keen before heading over. It is now.
The Marlin 336
Here's a view of my sight in target. The target was at 50 yards, open sights (and my crappy eyes) from a Marlin 336 firing 150gr Winchester .30-30 Silvertips off sandbags and a bench rest.
It was shooting a bit high, but I think I have it zeroed into a reasonable range. You can follow the progression of the shots down. Ended up taking me 8 shots (the high top shot was actually put there by the guy on the lane next to me - he was firing his AK pretty much out of control).
After sighting it in, I took a couple of offhand shots at a 6 inch paper plate (which I forgot to bring home) and was able to hit it at 50 yards so I am pretty content with that.
The .22lr Range Report
I also plan to do a bit of squirrel hunting mid day monday and thought I would sight in my 10/22 as well. After doing so, and having been moved by Kim Du Toit's
.22lr range report
earlier this week, I decided to conduct my own (but my pictures aren't near as nice as Kim's).
The Ammo
I was firing 4 different ammo choices:
CCI Mini Mags (100 ct box)


CCI Stingers (50 ct box)


CCI Blazers (50 ct box)


Winchester Xpert 22 hollow points (bulk box)
The Results
I fired them at both 50 yards (10 shot groups on the left) and at 10 yards (5 shot groups on the right). Here are the results
CCI Mini Mag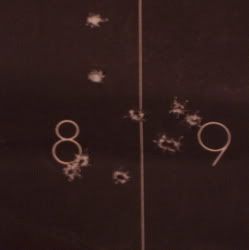 CCI Stingers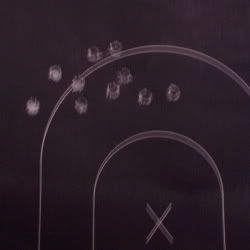 CCI Blazer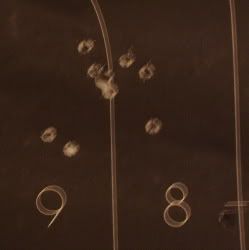 Winchester Xpert
Here's the complete 10 yard target (sorry, I don't have a picture of the complete 50 yard target)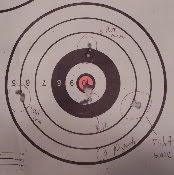 Final analysis
My initial impression was that the Mini Mags and Stingers would be, by far, the more accurate ammo choice. Reality has proven to be much different with the CCI Blazers (something I used to buy in bulk and always considered crap ammo) had the tightest group at both 10 yards and 50 yards. The Winchester Multi Pack also fared especially well (or at least a whole lot better than I imagined). Thats not to say I think the Mini Mags did poorly. In fact, they did as well as I would have imagined and but for the tremendous performance of the CCI Blazers would have been the victor. The Stingers, on the other hand, just don't do it for me. Sure, they are load and look and feel good, but their performance just doesn't match up. For me, they will remain simply a self defense (or assassination) round for use in concealed .22 handguns (like the Walther P.22)
Any thoughts??